World-class medical research is essential for delivering the best care for our patients. The Centre for Clinical Investigation and Therapeutics (CCIT) is a state-of-the-art clinical research facility located on level five of the Lindros Legacy Research building at University Hospital, London Health Sciences Centre in London Ontario, Canada.
The completion CCIT was realized as a result of sustained support from our London community donors, Department of Medicine, London Health Science Centre, and the Lawson Health Research Institute.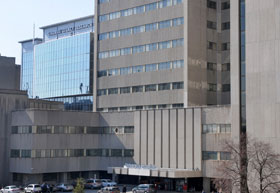 The goal of our CCIT is to enable pioneering discoveries in the area of translational clinical research that enhance the care and treatment of our patients.
This facility is the first clinical research centre in Canada which has been purpose-built to be located within an academic medical centre and focused on enabling investigator initiated clinical research while also retaining the capability and capacity for industry-sponsored clinical trials.
Whether the study is a simple pharmacokinetic study in healthy subject or complex phase I or II studies in patients suffering from cancer or a variety chronic illnesses, CCIT will function as dedicated and centralized hub of the intellectual and physical resource clinical researchers need to conduct investigator initiated patient-oriented research.